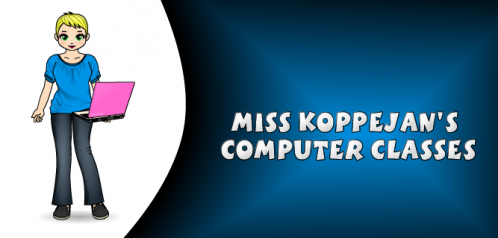 COVID-19 update:
You can use the links below to go to class instructions/lessons. If you want to finish your projects (PowerPoint or GameMaker game), let me know and I will email your files (from your Z: folder) to you at your school email account.
******
Welcome to Miss Koppejan's classes. If you have any questions, feel free to email me at ada_koppejan@sd33.bc.ca.
CLASS WEBSITES:
If you go to the class website, you will see a schedule of lessons/assignments:
If you want to work on Word/PowerPoint assignments at home, you can use Office 365 (just make sure you use the desktop apps for Word and PowerPoint as the online apps do not contain all the features of the program that you will need). If you save your work to OneDrive, you can get it checked or get help if you share it with me. 
STUDENT EMAIL/LOG IN:
Students have a school district internal email address that they can use to email teachers and log in to Microsoft online.
Email/username = studentnumber@sd33online.ca
Password is whatever the student uses on the school network.
OFFICE 365:
While it's best that students work on assignments during class where they can get help whenever they need, students are able to work on assignments from home. They can either install Office 365 programs on a home computer (saving the files into OneDrive). The link to log in to Microsoft Online is here.